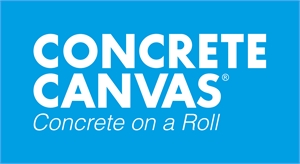 Concrete Canvas
Stand D5
Videos
Concrete Canvas Demo Park
Short video highlighting the newly opened Concrete Canvas Demo Park, located at Concrete Canvas Headquarters in South Wales, UK. The park features core applications of both Concrete Canvas and CCX products, demonstrating various methods of installation and techniques. The park is designed to provide both contractor training facilities, whilst also being a space for R&D: trialling new products, applications and techniques.
Concrete Canvas New Lower Carbon Mix
Concrete Canvas are delighted to introduce a new lower carbon mix of the CC product range!