Leca UK
Stand A4
Leca ® Lightweight Aggregate (LWA) is a natural, unique and sustainable lightweight clay aggregate. LECA® LWA has remarkable properties which ensure its versatility for use in a vast number of structural and geotechnical applications. It is the only "all in one" aggregate solution for Architects and Civil Engineers to overcome problematic areas in construction and design.
Documents
LECA® LIGHTWEIGHT AGGREGATE CONCRETE SOLUTIONS (1.61 MiB)

One of the primary benefits of using Leca® LWA in lightweight concrete production is its reduced density. The aggregate's unique porous structure significantly decreases the overall weight of the concrete, making them easier to handle and transport.

LECA® LIGHTWEIGHT FILL WITHIN HIGHWAY CONSTRUCTION (4.46 MiB)

In highway development and railway structures Leca® LWA is commonly used as a light fill material to reduce subgrade settlement and to improve stability of structures and areas of weak and unstable ground. It serves the similar targets when used in pedestrian and bicycle ways, railway yards and different platform and embankment structures.

INNOVATIVE RETAINING WALL DESIGN WITH LECA® LIGHTWEIGHT FILL (3.8 MiB)

The 'pull out' resistance of LECA® Lightweight Expanded Clay Aggregate makes it an ideal solution for reinforced soil retaining walls and bridge design. Particularly when constructed over weak sub-soils or voids, this method has been proven to cut overall construction costs considerably. LECA® Lightweight Expanded Clay Aggregate is used extensively to reduce vertical loading.
Products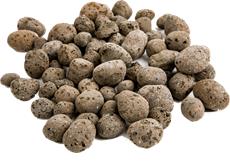 Leca® Lightweight Aggregate 10mm - 20mm (Geotechnical Application)
Leca® LWA has been used extensively in structural and geotechnical projects for over 60 years for lightening road and railway embankments, insulating and filling of swimming pool surrounds, reducing pressure within quay extensions, lightweight fill in foundations and behind retaining walls, general load compensation, insulating and lightening pipelines, lightening the load over tunnels and bridge development. Primary Properties 85%* less bulk density 75%* reduction of horizontal earth pressure to retaining structures Reduced settlement periods and increased stability Superb insulating and free drainage properties Resistant to extreme temperatures, moisture and chemical attack 100% inert and contains no harmful substances or gases Requires less vehicles for delivery – up to 70m³ per load Speed of site installation – up to 16 times faster production* * on average when compared to traditional fills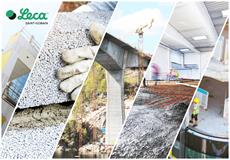 Leca® Lightweight Aggregate Concrete
One of the primary benefits of using Leca® LWA in lightweight concrete production is its reduced density. The aggregate's unique porous structure significantly decreases the overall weight of the concrete, making them easier to handle and transport. Leca LWA's durability is yet another advantage in lightweight concrete production. The aggregate possesses exceptional strength and resistance to external pressures, ensuring the longevity of the concrete. Its stability and ability to withstand extreme weather conditions make it an ideal choice for a wide range of construction projects. In addition to its physical attributes, Leca also benefits the environment. The production process incurs minimal environmental impact, as the aggregate is derived from natural clay resources. Furthermore, the lightweight concrete created with Leca LWA require less energy for transportation, reducing carbon emissions and contributing to sustainable construction practices.
Videos
A595 Moresby Hall Highway Construction
Over 11,000m3 of Leca LWA has been specified and delivered for a £16 million improvement scheme on the A595 next Moresby Hall. Over several years the local authorities have been monitoring localised areas of movement within the embankment supporting the A595. A developed scheme was planned and funding was secured to deliver a repair to the embankment and create 1300m of new drainage which allowed for the improvement and maintenance on the A595.
Retaining Wall Development - Murrayfield Revisited - LECA Lightweight Fill
GRAHAM Construction, responsible for the creation of the Murrayfield tram stop as part of the Edinburgh Trams Project, faced challenges on the project not least of all the ability to raise the structure seven metres above the existing ground level. Normal traditional fill would have imposed severe overburden threatening the stability of the existing Network Rail line and other established buildings. Consulting engineers to this project, Parsons Brinkerhoff, determined that the replacement of traditional fills with Leca® LWA was the preferred option to overcome bearing and settlement issues associate with the soft ground conditions underlying the site. Tristan Morgan, Geotechnical Engineer at Parsons Brinkerhoff, said: "One of our main issues was to get such a large earthworks structure founded within the underlying soft ground conditions without significant ground improvement being undertaken. The light weight attributes of the Leca® LWA satisfied these criteria, with significantly lowering bearing/settlement at formation compared to traditional fills. It also interacted with the Tensar elements of the structure without difficulty."
Sustainable Highway Development - CALDER AND HEBBLE JUNCTION CORRIDOR A629
Work is now underway to transform the Calder and Hebble junction corridor of the A629 near Halifax - the largest individual civil engineering project ever undertaken to date by Calderdale Council. – where 3,500m3 of LECA LWA has been specified as a lightweight fill for a new highway development. The works are set to improve the Calder and Hebble junction and form a significant phase of a wider scope project to improve the A629 between Halifax and Huddersfield. The project aims to improve journey times between Huddersfield and Halifax by up to 30% This project will include a new link road, which will be created via a bridge spanning the Calder and Hebble Navigation to a roundabout on Stainland Road. The project is fully funded by the West Yorkshire Combined Authority through the West Yorkshire Plus Transport Fund.
Preston Western Distributor Road (PWDR) Highway Development (Phase 2: Savick Brooke Viaduct)
LECA® Lightweight Fill is currently being installed for the Savick Brooke Viaduct section of the Preston Western Distributor Road Project (PWDR) project. This is the next phase of the £200m scheme currently being undertaken by Costain Group PLC on behalf of Lancashire County Council – linking North West Preston and the Fylde to the M55 motorway. Over 2400m3 of LECA® Lightweight Fill is being used for the next bridge abutment section of the development, providing a lightweight solution offering robust stability over delicate ground conditions. This new development is set to open in early 2023.