NIRA Dynamics AB
Stand A3
NIRA Company Description: NIRA is a pioneering technology company that specializes in two key domains - road maintenance and road perception solutions. With a deep commitment to technological innovation, we have become leaders in these fields, driving advancements that are transforming the infrastructure and automotive sectors. Website: https://niradynamics.se/road-maintenance/, https://niradynamics.se/road-perception/ Road Maintenance Solutions: In the domain of road maintenance, NIRA is dedicated to enhancing the quality and sustainability of road infrastructure. Our innovative solutions are designed to optimize the management and maintenance of roads and highways, ensuring they remain safe and efficient for all users. Key offerings from NIRA's road maintenance solutions include: Road Condition Monitoring: Our technology is capable of assessing road surface conditions, identifying issues such as cracks, potholes, or wear, and enabling timely maintenance interventions to extend the lifespan of roads and reduce maintenance costs. Data-Driven Insights: NIRA's systems generate valuable data and insights that support informed decision-making for road maintenance authorities. This data-driven approach maximizes the efficiency of road maintenance operations. Environmental Responsibility: NIRA is committed to sustainable road maintenance. Our solutions contribute to reducing the environmental impact of road maintenance activities, aligning with global efforts to combat climate change. Road Perception Solutions: In the realm of road perception, NIRA's mission is to equip vehicles with the essential capabilities for autonomous and advanced driver assistance systems. Leveraging our expertise in computer vision and sensor fusion, we have developed a comprehensive suite of products and services. Our solutions empower vehicles to perceive their surroundings accurately, resulting in safe and efficient navigation on the road. Key offerings from NIRA's road perception solutions include: Sensor Fusion Expertise: NIRA excels in integrating data from various sensors, such as cameras, radar, and LiDAR, to create a holistic and precise understanding of the environment. This multi-modal approach enhances the robustness and reliability of our perception systems. Advanced Computer Vision: Our state-of-the-art computer vision algorithms enable vehicles to detect and identify objects, pedestrians, road signs, and lane boundaries with exceptional accuracy. This forms the foundation for secure and reliable autonomous driving. Customizable Solutions: We understand that every vehicle and application is unique. NIRA offers highly adaptable solutions, ensuring our technology meets the specific needs of our clients, whether they are automobile manufacturers, technology companies, or research institutions. Safety and Reliability: Safety is paramount at NIRA, and our technology adheres to the strictest safety standards. Our robust and dependable perception systems play a vital role in reducing accidents and saving lives on the road. By bridging the worlds of road maintenance and road perception, NIRA is uniquely positioned to revolutionize infrastructure management and the automotive industry. Our innovative technology is instrumental in enhancing road safety, reducing accidents, extending the life of road networks, and contributing to environmental responsibility. Visit our road maintenance page and road perception page to explore how NIRA is making a difference in these critical domains. Join us in shaping the future of infrastructure and mobility.
Products
New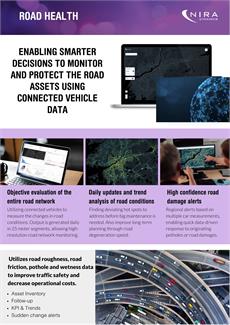 Road Health utilizes road roughness, road friction, pothole and roadbump data to improve traffic safety and decrease operational costs. It is an automated and objective system for road monitoring. What are the benefits of using Road Health by NIRA? Road scanning is done continously. There is no longer a need to use measurement wheels or road profilers. Using RSI vehicle data means higher frequency of data and continuous updates. Daily updates is possible as opposed to annual measurements. Realtime updates is key to be able to perform predictive maintenance of roads. Actual roughness instead of measured roughness. By using regular passenger vehicles for data collection, the data collected represents how the cars and its passengers experience the roughness of the road. This gives a more accurate view of the quality of the road. Costs are decreased. Using RSI for IRI scanning can cut costs for road scanning by more than 50%. No more expensive measurement equipment, no need for planning the measurements. The measurements are done automatically and the data is provided in our customer APIs.
New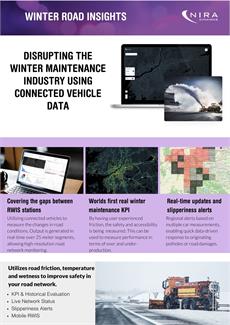 Road Surface Information data can be used for many things, but these are some of the use cases already available: Real-time alerts allowing salt truck instructions, traffic redirection and traffic sign control. This is perfect for making sure no areas have been missed or if slipperyness warnings have to go out to the public. Traffic management centers does not have to rely on manual reports of changes in road conditions, but can actually get automated warnings directly into their systems. Statistical analysis allowing seasonal and geographical overview. RSI allows this sort of analysis to help decision makers, DOTs, road contractors and traffic management centers perform better and improve over time. The possibility is there to automate the monitoring of road conditions, both snow and ice, but also road roughness and deterioration. Evaluation of performed actions for maintenance area comparison and RFQ input. How are different salt mixes performing, how are new salting trucks comparing to old, how quickly can one area get the roads cleared compared to other? RSI allows a truly objective way to measure these KPIs and many others.
Videos
NIRA - Road Surface Information
Information about RSI by NIRA