Transport Scotland eyes 'equitable metric' for the roads experience
When questioned on what changes the sector can expect for the fifth generation of Scottish trunk road contracts - due to be tendered late next year - Hugh Gillies, director of trunk road and bus operations Transport Scotland, said he was considering ways to change the contracts and that 'everything is in play'.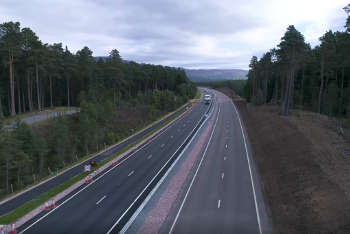 Speaking at Road Expo Scotland, Mr Gillies told delegates: 'There is the potential to collaborate with the local roads sector but I think for me at this stage while everything is in play, it's recognising what we want for particular things like growth, tourism, customer care. These are big things.
'Are roads serving the nation as they could do, do they look and feel right? It's difficult to quantify that [in a contract]. I think that's where we need to get to discussions with the contractors about how we are going to set up a fair and equitable metric that would allow them to recognise the look and feel aspect or the customer care aspect is something they can deliver against and something they can be judged against. Right now I don't have the answer but we need to get to that place.'
'Don't back any one technology'
Looking further ahead to the future, Mr Gillies pointed out some of the difficulties in planning for the future of technology in what has undoubtedly become a sector in transition.
'Technology is driven by big companies like Google and a government really can't get involved in controlling that.'
He revealed that while developing Transport Scotland's new ITS strategy, he spoke to representatives from car giant Tesla.
They advised him: 'Don't back any one technology - leave it open, let the market drive it forward, that way you are not investing money in systems that can become obsolete very quickly and you can stay fresh and relevant.' He also pointed out that how much social media had now permeated 'the way we work and need to work'.
'We live in a 24-hour society in terms of the fact that "just in time", lean processes have been put in place and they are so reliant on our transport systems reacting quickly. People tend to commute longer distances as transport systems have become more efficient.'
Unintended consequences and own goals
He also revealed that Transport Scotland had been involved in shaping the Scottish Government's low emissions zones (LEZ) policy and was eager to avoid unintended consequences and 'own goals'.
'With government planning to double the spend per annum from £40m to £80m on active travel you have to work so you don't end up indirectly scoring own goals.
'You have to work with the bus industry to ensure you don't harness them with difficulties in terms of fleet turnover and it works against them and they end up having to pull buses out rather than put buses into the sector.
'And that's where we are right now working with the bus and freight sectors and working with colleagues in the four cities with targets of having a LEZ by 2020 with Glasgow the first by 2018. We have to work collaboratively to deliver that particular outcome but it's the right thing to do.'
Judge us in time please
On the issue of the Queensferry Crossing, which has had speed restrictions in place and was forced to close down for extra work since its opening, Mr Gillies called for patience from the sector and the public.
When asked, he declined to give a date for when the bridge would have its 70mph speed limit in place.
'It's a site still with a contractor. They have to deliver against that. They know what it looks like in terms of the finished article. What I can tell you is we are monitoring that week to week and the progress towards that. I don't want to make a commitment to that and fail to deliver. But let me say it is not lost on us that day to day people want that as quickly as possible.
'The scheme is not finished. There is a managed motorway system in place to try and encourage people to use public transport. We have a managed speed limit in place. Judge us in time please.'
Road Expo Scotland 2018 will take place at the Royal Highland Centre, Edinburgh on 31 October and 1 November. If you want to be kept informed on developments or if you wish to receive details about sponsoring or exhibiting please email Dino Dionissiou at d.dionissiou@hgluk.com.